With the recent changes the FTC has made to the used car buyers guides, we have had our share of questions.  Below you will find a comparison as well as a few common questions about the new FTC buyers guide format for your used car inventory.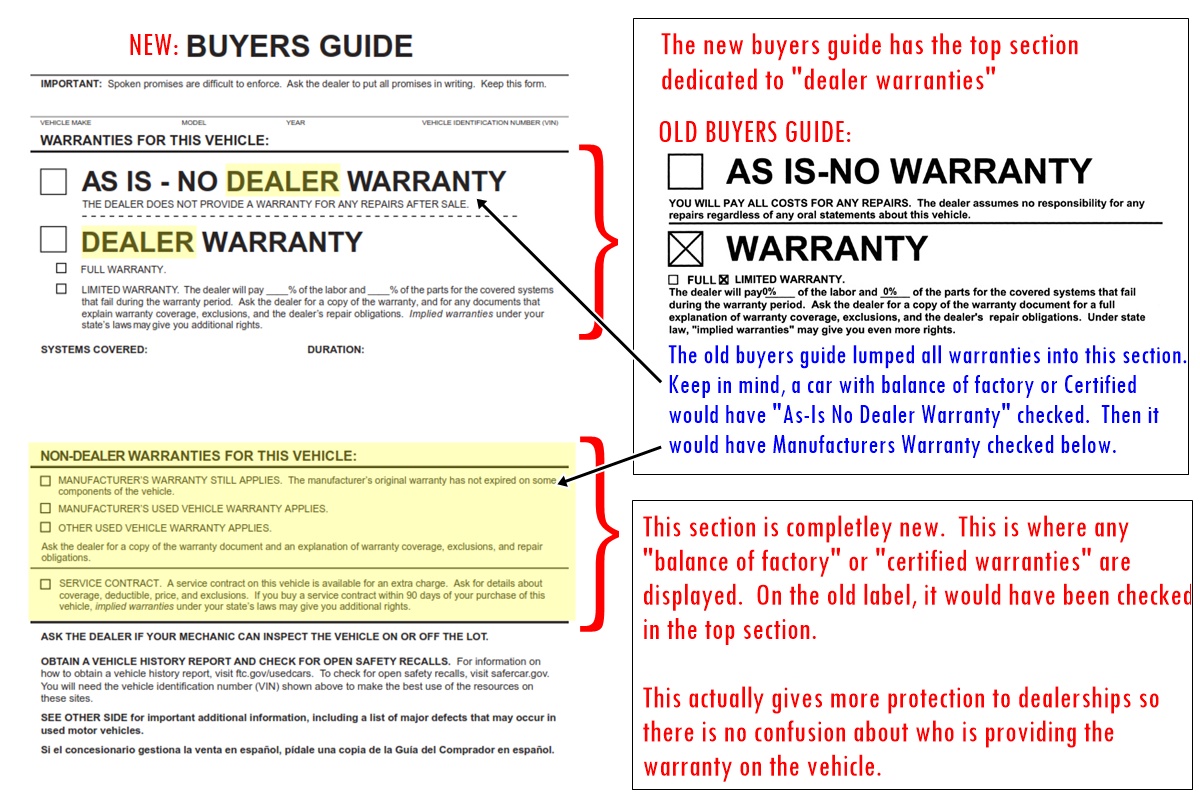 Frequently Asked Questions:
Why do my used cars that are still under warranty show the top box checked as "AS-IS – NO DEALER WARRANTY".  My customers see that and think it isn't under warranty.
The old buyers guide essentially lumped all warranties into the top section with the larger check boxes.  With the new buyers  guide, this is split up with the top section addressing the "Dealer Warranty" and further down addresses the "Manufacturers Warranty".
So where does it show if the car has a manufacturer's warranty like "balance of factory" or "Certified Pre-Owned" warranty?
The Lower section includes check boxes to indicated any manufacturer's warranty.  The top box would be checked for "Balance of factory" warranty and the second box would be checked for a certified pre-owned vehicle.
I don't like the format, can you change some things for my dealership?
Unfortunately, this format is strictly dictated by the Federal Trade Commission.  We don't have a choice but to strictly adhere to the standards set by the FTC or risk the penalties for being non-compliant.
So while these changes seem minor, it may be a good idea to provide training for your salespeople to make sure they can be knowledgeable when showing a used car on the lot and answering customer questions.  While the changes could be a little confusing to the customer, they should help better protect the dealership by giving the distinction of who is providing the warranty.
Need more information?  Feel free to contact your local AutoUpLink contact for any additional help.