INVENTORY DATA INTEGRATION…WHY DO I CARE?
Data isn't usually the first thing on your list when selecting an inventory management vendor but it is more crucial to your business than people think.  Why does data matter?  Getting your vehicles online quickly and accurately is a key ingredient to selling more cars.  With DMS integration and multiple exports a day, AutoUplinkUSA gets your inventory posted quickly and accurately.  You would assume in the modern era, this would be standard with any vendor that handles inventory, but that's not always the case.
IT STARTS WITH RELIABLE AND ACCURATE DMS INTEGRATION
The Dealer Managment System (DMS) is the heart of operations for your dealership.  When inventory arrives or is purchased, it is entered into the DMS.  The very next time we update, any vehicles added or sold, are updated in our inventory list and feeding out to your website and other 3rd party advertising sites on the very next update.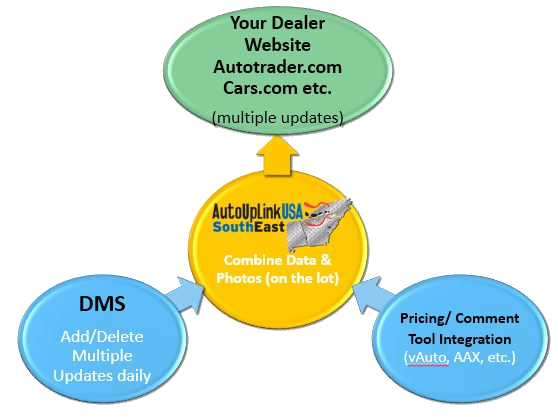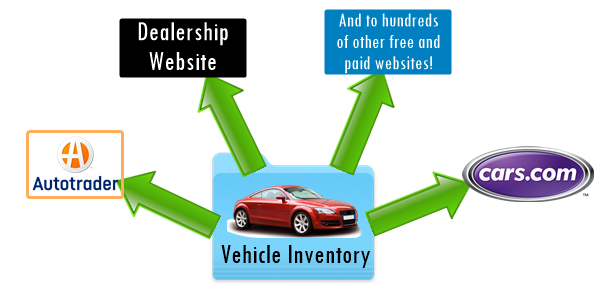 INVENTORY PUSH TO UPDATE VEHICLE LISTINGS ON WEBSITES 
Can send data feeds to over 400 lead providers, dealer website providers, and auction sites (AutoTrader.com, Cars.com, etc.)
Most feeds sent multiple times per day for quicker inventory updates
Service includes feeds to a number of free sites (LemonFree.com, etc) to expand your inventory's reach on the web
PRICING INTEGRATION
With many dealers using market pricing tools to help manage their inventory today, we can integrate in real time with many inventory tools like vAuto, FirstLook, & AAX.  What does this mean?  When you make a change to pricing or comments, it updates in our system in real time so updates go out to the web without delay.
NEW CAR PRICING AUTOMATION
To be competitive in the new car market, many dealers are using their new car listings on the website to display the MSRP price and also a reduced "Sale Price" below.  You can set your sale price manually using our inventory tool for each vehicle.  Or if you like, ask us how we can help you automate the prices by year, make and model using pricing rules.   This allows you to automatically calculate a price based on either MSRP or even the sales cost/invoice price.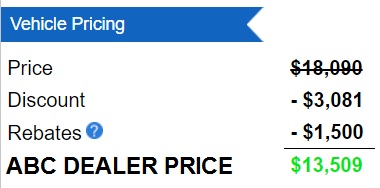 THOROUGH VEHICLE DATA COLLECTION ON THE LOT
How accurate are the options listed on your vehicle inventory?  We take meticulous care in making sure that your vehicle options being published in ads online are accurate.  We work closely with key 3rd party websites to align the vehicle option data to what real consumers search for on their websites.  We want your full size SUV to be found when the customer is looking for that SUV with a 3rd row seat and DVD entertainment.
AUCTION LISTING TOOLS
Quickly and easily post vehicles to auction sites using your existing inventory details and photos.  Post your inventory to vehicle auction sites like:
Ally's SmartAuction
Manheim's Online Vehicle Auction (OVE)
Adesa's Openlane Auction
Need More Information?
Keeping photos of your cars updated can be a daunting task.  Often your vehicle ads online slip because you fall behind.  Getting photos online increase your effectiveness with online ads and get you more opportunities to sell a car. Contact us today to discuss how we can help.